Domainer loses $88,000 to a cruise company. He's got their domain too!
Update 8-Aug-2020: Mr. Schwartz has reached out providing some clarification. He's a domain investor, not a domain hoarder. "I've invested over $10 million in acquiring these premium domainnames [sic]." He continued, "More importantly I was not involved in any phishing scheme of any sort and I didn't know in any way shape or form. Anything that was done was done without my knowledge approval or anything else. I was unaware of it until the podcast."
In what can be described as one of the greatest ironies, domainer Rick Schwartz who goes by the name of Domain King has his money stuck!
In a series of angry tweets posted this week, the businessman shamed Crystal Cruises for failing to refund his $88,000 after he had contacted them privately. It seems Mr. Schwartz had booked an "owner suite" on the "world's most awarded luxury cruise line." And somewhere down the line, the booking got canceled (which sounds hardly surprising given the pandemic).
Mr. Schwartz who has been in the domaining business "since 1995" said in the same thread, "If they're dicking me around for $88,000 for an owner suite can you imagine how they're treating people that are just getting regular suites?" thereby appealing to the emotion of majority customers, especially the regular suite class.
Tagging the company's Twitter handle in the same tweet, he continued, "LIE. But #AMEX has been in the loop the whole time and now it's chargeback time."
Of course, the affluent Domain King Mr. Schwartz carries an Amex with an impressive credit limit.
I only know of Mr. Schwartz as a phishing campaign I had recently analyzed at BleepingComputer, incorporated the "servicedesk.com" domain. The domain included by the scammers in their email has been up for sale by the Domain King. And, this fact was brought to public light by Joe Carrigan and Dave Bittner during an episode of their Hacking Humans podcast, "Be the custodian of your own digital identity."
ServiceDesk.com has the feels of a corporate "IT helpdesk" domain and is merely parked, up for sale, with no DMARC records or any email security infrastructure in place, as pointed out by Carrigan. This makes it an attractive domain for scammers to include in their phishing campaigns leveraging forged email headers.
Update 8-Aug-2020: To clarify, servicedesk.com isn't directly involved in any phishing campaign as Mr. Schwartz confirms, but being a parked domain for sale with no DMARC records, it was instrumental to the phishing campaign and preyed on by the attackers. This was done without Mr. Schwartz's knowledge.
Navigating to "servicedesk.com" or any of the domains Mr. Schwartz has for sale loads up the same landing page: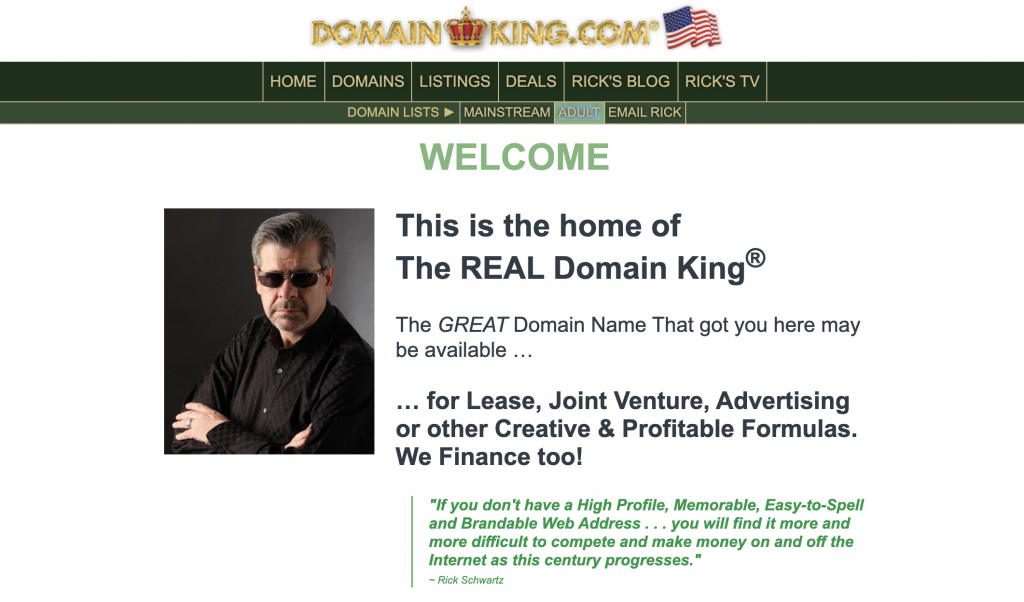 Domainering, say what?
Domain hoarding, domainering, or domain-squatting refers to the practice of serially buying catchy-sounding domains for dirt-cheap prices and holding on to them, but with no intention of ever putting them to use.
The domain squatter typically buys domains hoping that one day they'll be approached by a potential buyer who will desperately need the domain. And by exploiting their desperation, the domain squatter would sell the domains at exorbitant prices (i.e. 100x, 1000x, 10,000x than what they had originally bought them for), purely for the domains' vanity and branding value.
For example, let's say, "AxSharmaBodybuilding[.]com" was available today for a mere $10 from any registrar. A domainer who can foresee a need: that I may be interested in this domain in future (should I become a famous bodybuilder) could squat it (no pun intended) for a nominal $10 a year, in the hopes that a buyer (myself) will approach him one day. And he'd then be able to make a fortune by trading this domain for $10,000, $100,000, or even more (depending on how loaded the buyer was).
The artificially-inflated sales price of otherwise incredibly cheap intangible assets is what makes this business attractive for domainers, if you are rich. And that same inflated sales prices are loathed by new businesses and startups, who must now pay enormous amounts without a good reason for simply buying a domain name they intend on using, and which accurately represents their trademark.
A massive catalog
List of domains "purveyed" by Mr. Schwartz which are, or were at some point, up for sale includes some very catchy, "Candy.com", "Luv.com", "Cheapest.com," as shown on his Twitter profile. And, if you're in the mood for launching your next kinky adult venture, head straight to Domain King's NSFW domain catalog, at your own risk. 😉
The domain mogul has also recently imparted wisdom when it comes to investing money in domains:
"When I talk about [domain names] I am ALWAYS talking about investment quality #Domains. If you deal in crap I'm sorry you're dealing in crap. Nothing I say applies to crap. Everything I say applies to an investment-grade #domain. Meaningful domain names. Important domain names," he said in a tweet.
What infuriated Mr. Schwartz is that Crystal Cruises had canceled his luxury suite booking, and are now making him wait for over four months despite having made promises that they'd process the refund "weeks ago," according to Mr. Schwartz.
He lashed out in yet another tweet, "waiting 120 days for an $88,000 REFUND on an OWNERS SUITE for a cruise YOU cancelled that you promised WEEKS ago is UNACCEPTABLE!!!"
He further demanded publicly that the company "process my $88k refund IMMEDIATELY!!" or else… he shall use CrystalCruisesSuck.com – that of course, the Domain King has squatted, to share his unpleasant story.
Considering other customers have complained before about Crystal Cruises not processing their refunds, Mr. Schwartz's concerns are valid and well-founded, as a customer.
In a press statement released by Crystal Cruises on July 23rd, the company said, "We recognize and understand your frustration as it relates to the processing of your refund. We ask for your patience that, given the voluntary suspension of cruise operations across our entire fleet, we are receiving an unprecedented number of claims that need to be processed individually."
"This is a manual process and, where our reservation and payment systems can handle a normal refund environment efficiently and smoothly, they were not designed to handle this volume in such a short period of time. All credit card processors are in a similar place and are affected by the sheer volume of refunds, which is further constraining the process and causing delays on their end as well," the statement continued.
In his latest tweet, Mr. Schwartz stated that he ultimately went with a credit card chargeback for $83,000 with his credit card issuer, insinuating he'd likely not be using Crystal Cruises again.
Ever since these unprecedented times have taken force, complaints of customers having to wait on their travel refunds for long are soaring, leaving businesses in an even more difficult position. But when you read the Domain King's story in which he's genuinely the victim, it's hard to do so without a chuckle.
Archived links:
http://web.archive.org/web/20200731161137/https://twitter.com/DomainKing/status/1288925862537179139
http://web.archive.org/web/20200731184534/https://twitter.com/DomainKing/status/1289221816926363648
http://web.archive.org/web/20200731184950/https://www.crystalcruises.com/corona-virus-health-advisory/issuance-of-cruise-refunds
(C) 2020. Ax Sharma. All Rights Reserved.